Spirit of '66, Verviers, Belgium - 25/04/2007
by Andy Jago

THE SHORTLIST: Micky Moody (guitars), Steve Simpson (guitars & fiddle), Gary Twigg (bass guitar), Ian Gibbons (keyboards), John Lingwood (drums & percussion), Helen Hardy (backing vocals).

SONGLIST: One More Time For Peace; Heading Back To Storyville/Kick It Back; All Too Soon; Oh Brother, Take Me!; Blind Willie McTell; Prisoner; Son of Red Moon/Toenail Dragginí/These Boots Are Made For Walking; Sweet Bird; X-Town/5-10-15-20; You Keep Me Hanginí On/Who Pulled The Nite Down. Encore: Jesus & The Devil; Shadow On The Wall/Shortlist.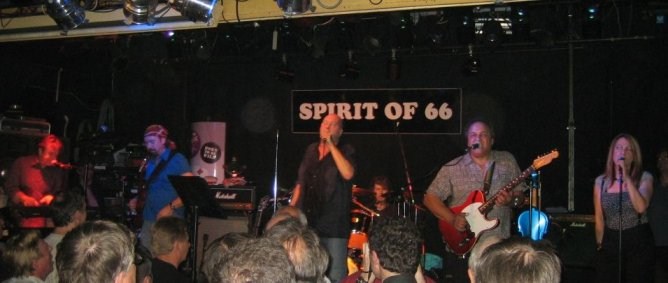 Like pilgrims, we skip on into town on the Roger Chapman road map. On this occasion itís Verviers in east Belgium, a small industrial town close to the borders of Netherlands and Germany. This is the first time weíve seen Chappo perform in mainland Europe, and it coincides with a six day holiday spent with friends, Mike and Martina, who now reside in Brussels. The venue is the Spirit of 66 Club, an American styled bar with a capacity of 300. Itís named after the famous highway, Route 66, but today itís fitting, not so much because Roger Chapman teamed up with Charlie Whitney in the Farinas in 1966, but sadly we learn this morning that Englandís World Cup Winner Alan Ball has died. I doubt if anyone epitomised the spirit of that team more than the 21 year old flamed hair dynamo who Bobby Charlton described as their best player in that Wembley final.

Here, in the Walloon region, tickets are priced 25Ä (£16.50) and having found the venue, Peter Jones points us in the general direction of the whereabouts of the other roadie, Simon Bell. At a tavern a mic stand and a tambourine throw from the venue, I sit with Simon, who Iíve known for several years, talking of the tour, the new album, Rhodsieís funeral and times past. He informs me that the last time the band played Belgium (Lockeren Festival, August 1993) the king died, which explains why there is no audience reaction in the video. Bringing me up to date, he tells me the band was in top form the previous night playing to a sell out audience of 400 at Lorsch. We were among 700 watching and enjoying Joan Armatrading in concert back in the capital.

By the time we enter the club itís close to being full, which is encouraging knowing 70ís glam rock group Sweet are here on Friday and already tickets have sold out. At 8.30pm the show begins, The Shortlist march on stage with Ian Gibbons and Micky Moody left of centre, Steve Simpson and Helen Hardy right with the rhythm section of John Lingwood and Gary Twigg based at the rear. John cracks the sticks, and itís straight into the opening bars of One More Time for Peace. Chappo enters smiling, greeted by loud cheers and applause, as he kicks off on another glory ride. The big man is in good fettle and form, the beat getting heavy on the cowbell within minutes. In the second song, Storyville, heís playing harmonica, by Prisoner heís pogo jumping and between songs heís effing and blinding earning responsive laughter and wisecracks. Heís thoroughly enjoying himself, as too are the audience as Micky, who Chappo refers to as the Son of Whitesnake, and Steve demonstrate their guitar skills in another tight musical performance from the band. Helen, looking very stylish and elegant in trousers and braces, is much involved and sings the Motown classic You Keep Me Hanginí On in the lead up to Who Pulled The Nite Down, while Steve occasionally adds his deep warm ĎOld Man Riverí tone to the tunes.

Five songs from the new album are played. The catchy title track followed by Heading Back to Storyville, which is an unwrapped little gem procured from the less inspiring Wild Frontier. All Too Soon, a father to son advice on life, is the closest thing heís written to the rock classic Weaverís Answer. Oh Brother, Take Me is an adaptation of Huddie Ledbetterís (Leadbelly) Whoa Buck, while Sweet Bird captures the melodic chorus lines abundant on the new album. Lyrically, Chapman is in a league of his own with his often abstract interpretation of his observations and chosen subject matter. Intellectually, his work is worthy of any studentís deep analysis. Like William Blake, the writer of Jerusalem, his work may be fully recognised and appreciated long after his passing, but hopefully that is a long way off yet.

At 10.15pm, after 105 minutes and a good balance of old and new songs, itís good night Vienna, or in this instance, Verviers as Chappo brings a fine show to an end with the conclusion of Shadow on the Wall. The boisterous crowd call for more, including cries of How How How and Mango, but the man has gone. The house lights switch on and the crowd slip off into the dark night. The four of us return to Brussels ready for our flight next day to Bristol and home to Brixham while the band keep on moving into Germany, Switzerland and Austria. Chappo may now be eligible for his pension, but mother nature keeps the stalwart evergreen. It leaves much for the British following to look forward to come early June when, Iím sure, a few of the old Family favourites will be shuffled into the play list.

ANDY JAGO